'Sumaya Teli is a British Kashmiri now living in the USA with her husband and three children. She is founder and writer at mamanushka.com ~ a popular lifestyle blog rooted in experiences of being a western global Muslim, Woman
and
Mother.
Recently I photographed some pherans on the beach! This cool opportunity came when I attended this year's KGNA – held in LA California. After my popular blog post about pherans (
read here
), fashion show organizers for KGNA asked me to source pherans for their annual show. I knew just the designer for it and in return for the loan of her gorgeous pherans, designer Iqra Ahmed of
Tul palav
fame asked me to photograph them for her. Read on to see why this meant more to me than just photographing an item of clothing.
Look at this show stopper of a red velvet pheran with gold tilla embroidery.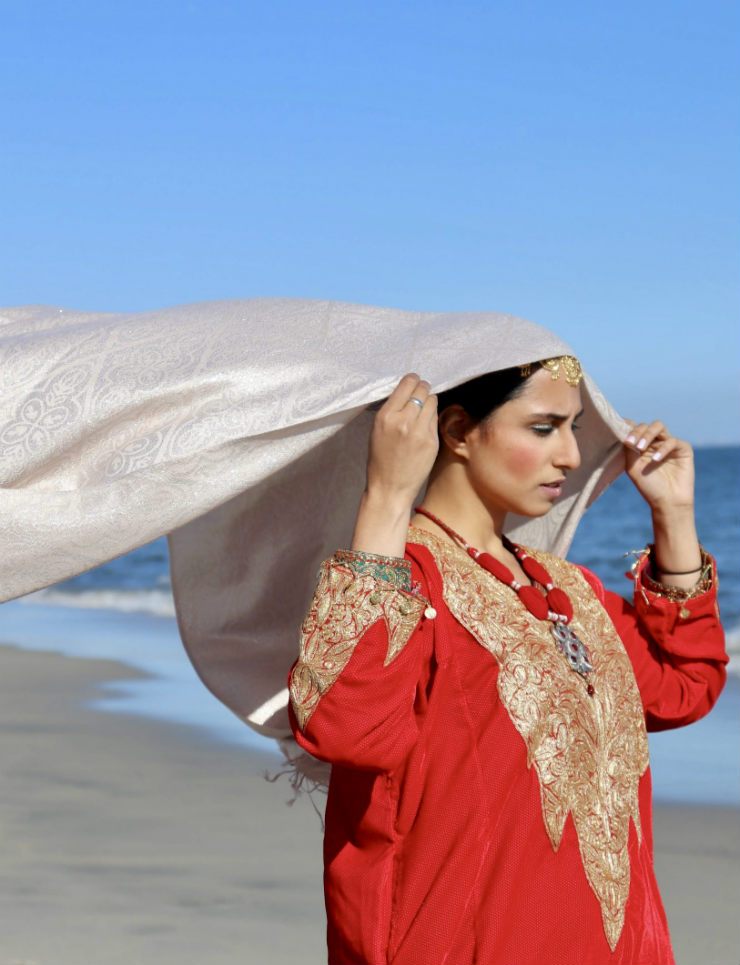 I already had my friend Sabra down as the perfect model and we gathered a couple more fellow pheran affectionados who would be up for taking a few photos.
Despite all of us being on a super-tight schedule, taking a few photos turned into a full on outdoor photoshoot in Long Beach Los Angeles!
We quickly donned pherans on top of what we were already wearing.
This is actually one of the best things about a pheran – the fact that they are supposed to go over your comfy outfit and are a one size fits all.
I styled each pheran with traditional Kashmiri jewelry ( with a couple of bohemian add ons), here I wrapped this shawl on Faiqa's head in what is nowadays considered a very old fashioned style – mostly seen on more 'mature' women in Kashmir and even then mostly in villages. I actually think it's such a lovely and unique way of tying the hijab.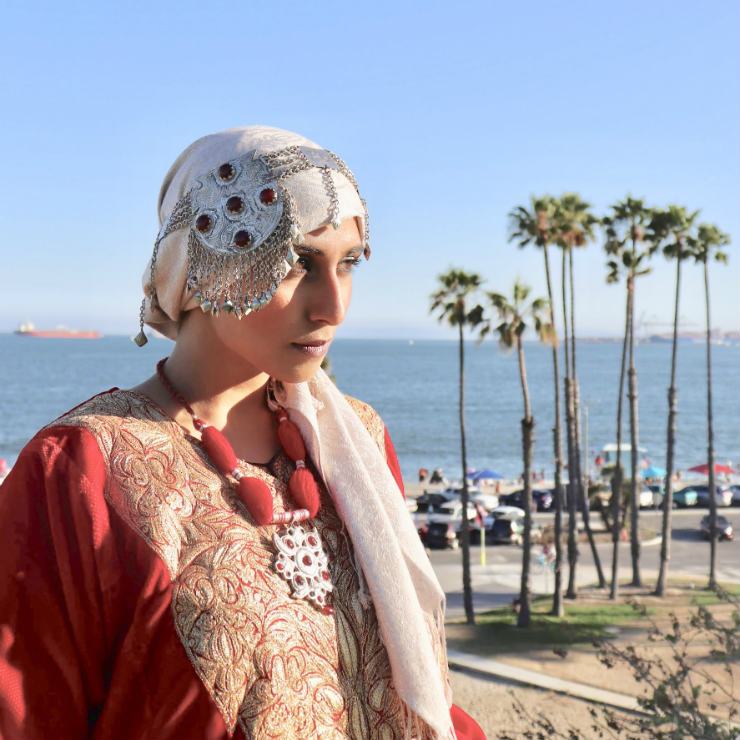 This amazing pure silver headpiece is actually a necklace! It was sourced by a jeweler from Sopore from amongst the Gujjar craftspeople. This nomadic tribe of Kashmir are the only ones who mostly make these now. The necklace is part of a set with the the bunches of hooped earrings worn here by Zairah (in green) underneath her skull-cap type hat ( also designed by Tul Palav -after a traditional topi worn by women in Kashmir called kasaabe' ).
The earrings are so heavy that they are suspended on some string and not actually in the ear lobes, although I've seen many a low hanging ear lobe on elderly women in my childhood!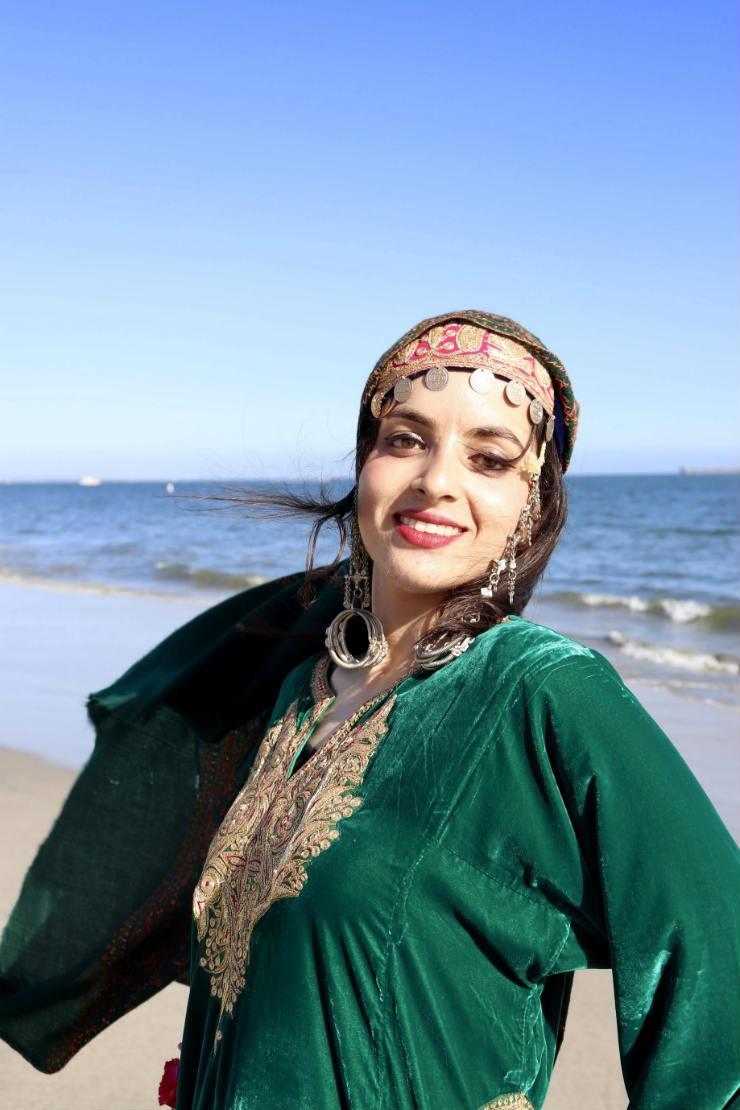 Here's a better view of that kasaabe' and suspended earrings.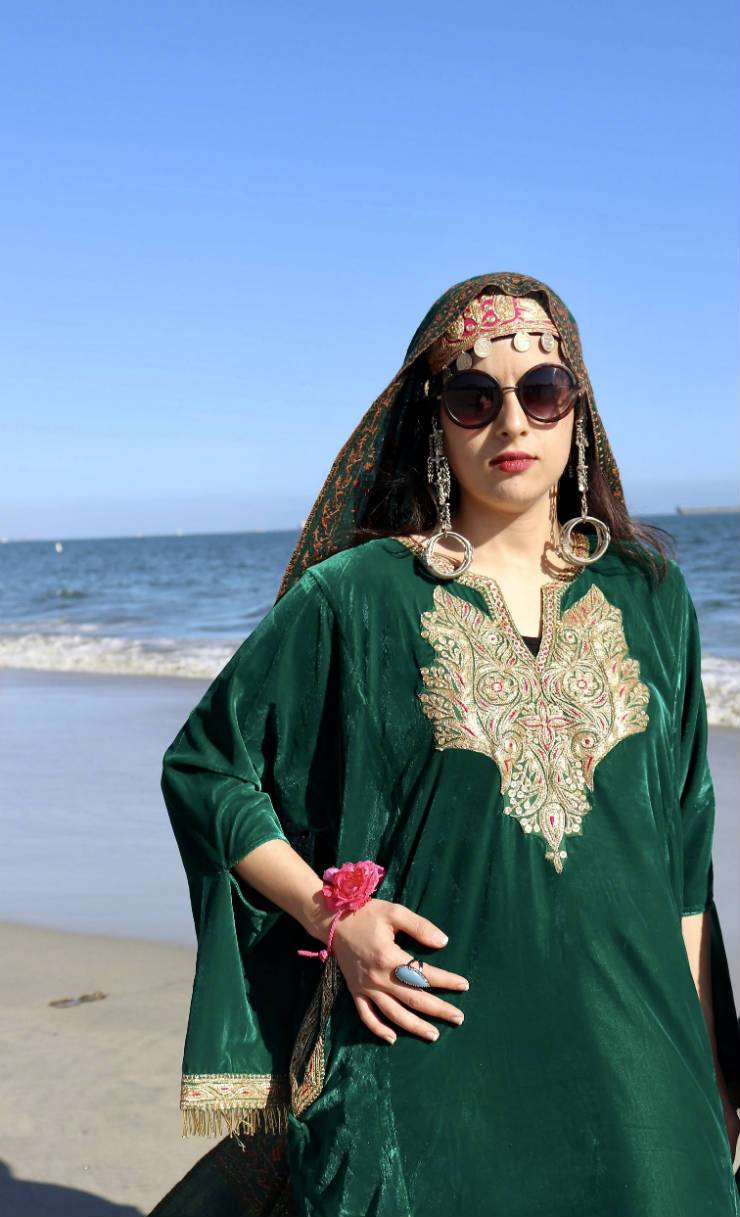 I can't get enough of how cool this looked. On top of the cap, I draped a Kashmir shawl fully embroidered with Sozni stitch work. It's actually my wedding shawl!